Silent Oil Free Air Compressor EBG100

Product Description:Model:EBG100/EBW100 Product Advantages:1. Powerful and durable2. The inside of the gas storage tank is treated with anti-rust and anti-bac



Product Description:
Model:EBG100/EBW100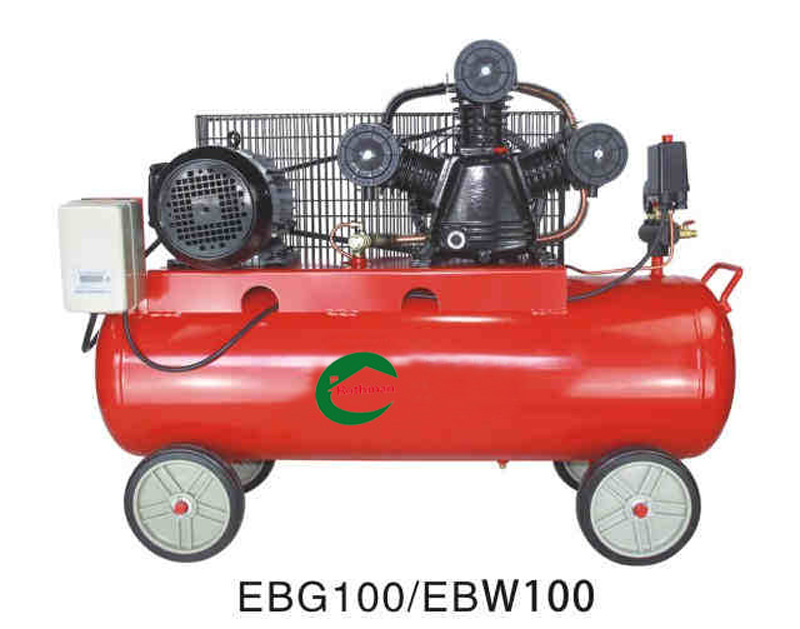 Product Advantages:
1. Powerful and durable
2. The inside of the gas storage tank is treated with anti-rust and anti-bacterial treatment to ensure gas cleanliness and product safety at the source.
3. The pressure and gas production ratio obtained through a large number of experiments and demonstrations can produce the most gas source most quickly under the condition of the least consumption, and the extreme start and stop are all automated, saving power and worry.
4. Extremely pure oil-free design, the exhaust gas is extremely clean, meets the strict requirements of the supporting equipment on the gas source, guarantees the safety of the contact personnel, and is more in line with the new world concept of "green and environmental protection".
5. Each product has been tested by a withstand voltage tester for leakage and current resistance. A flame-retardant sound-absorbing cotton is attached to the sound-absorbing box, which completely eliminates product safety hazards and silences.
6. Simple operation, ready to use when connected to electricity, fully automated design, no need for special personnel to work; the air pressure can be adjusted freely according to the requirements of use, no complicated maintenance is required, and only regular drainage is required.
7. The dryer or filter with different precision requirements can be selected according to the different needs of the industry, and the dew point can range from -20 to 60.
Application :
1. Laboratory equipment
2. Meteorological chromatography
3. Mass spectrometry
4.3D metal printing
5. Petroleum smelting
6. Food manufacturing
7. Biomedicine
8. Chemical energy
9. Environmental protection
10. Water quality testing
11. Industrial production
12. Aerospace Science and Technology
13. Car braking
After-sales service :
1.24/7 after sales service support in different languages.
2.Follow up the feedback of products in 2 months interval by email or call.
3. All kinds of technical documents in different languages.
Specification

Model

Voltage/Frequency

Power

Air flow F.A.D

Speed

Tank

Max.Pressure

Packing Measurement

Weight

V/HZ

KW

HP

L/Min

C.F.M

R.P.M

L

GAL

BAR

PSI

L*W*H MM

KG

EBZ30

220-240/50

0.55

0.75

91

3.20

1150

30

7.93

8.00

115

370*330*600

40

110-220/60

EBV50

220-240/50

1.00

1.50

159

5.60

95

50

13.20

8.00

115

930*400*700

69

110-220/60

EBV60

220-240/50

1.50

2.00

186

6.60

1020

60

15.90

8.00

115

930*380*700

74

110-220/60

EBG80

220-240/50

2.20

3.00

152

5.40

980

80

21.10

12.50

180

1030*380*730

88

110-220/60

EBV80

220-240/50

2.20

3.00

302

10.70

1020

80

21.10

8.00

115

1030*380*700

90

110-220/60

EBG100

380-420/50

3.00

4.00

318

11.20

980

100

26.40

12.50

180

1120*430*800

108

380-420/60

EBW100

380-420/50

3.00

4.00

477

16.80

1000

100

26.40

8.00

115

1120*440*800

110

380-420/60

EBG120

380-420/50

4.00

5.00

265

9.40

880

120

31.70

12.50

180

1120*440*860

155

380-420/60

EBV120

380-420/50

4.00

5.00

590

20.80

880

120

31.70

8.00

115

1120*440*860

160

380-420/60